information becomes knowledge becomes awareness becomes choice becomes power
My name is Phonexay and I am an acupuncturist.  I am also a wife and mother of two, and I live in Seattle, WA with my family. My husband, Dr. Andrew Simon and I own an integrative clinic together called Rebel Med NW located in the lovely Ballard community. Together, we are trying to implement a vision:
We want to practice a medicine that brings together practical wisdom (what people might call "folk" medicine, or nature based medicines) and modern technology and pharmaceuticals. We believe that the past, present, and future all offer something valuable that can be functionally utilized as medicine.

We want to create a space that values practitioners, embracing the unique perspectives and skillsets that they bring with them. In turn, our practitioners can practice with freedom and joy, paying it forward through the quality of care that they provide to patients.

We want to work as a team so that we can all continue to learn and evolve together through the practice of healing. Patients benefit from our truly integrative approach.

We want to be advocates for good medicine. Right now, there is a lot of noise out there, and it can be overwhelming. Our team practices medicine that is informed by scientific evidence, but we also use our intuition. We recognize that although we are experts in medicine, our patients subjective experiences will also affect the efficacy of their care, and sometimes you just have to take creative leaps based on the data you have to make a breakthrough.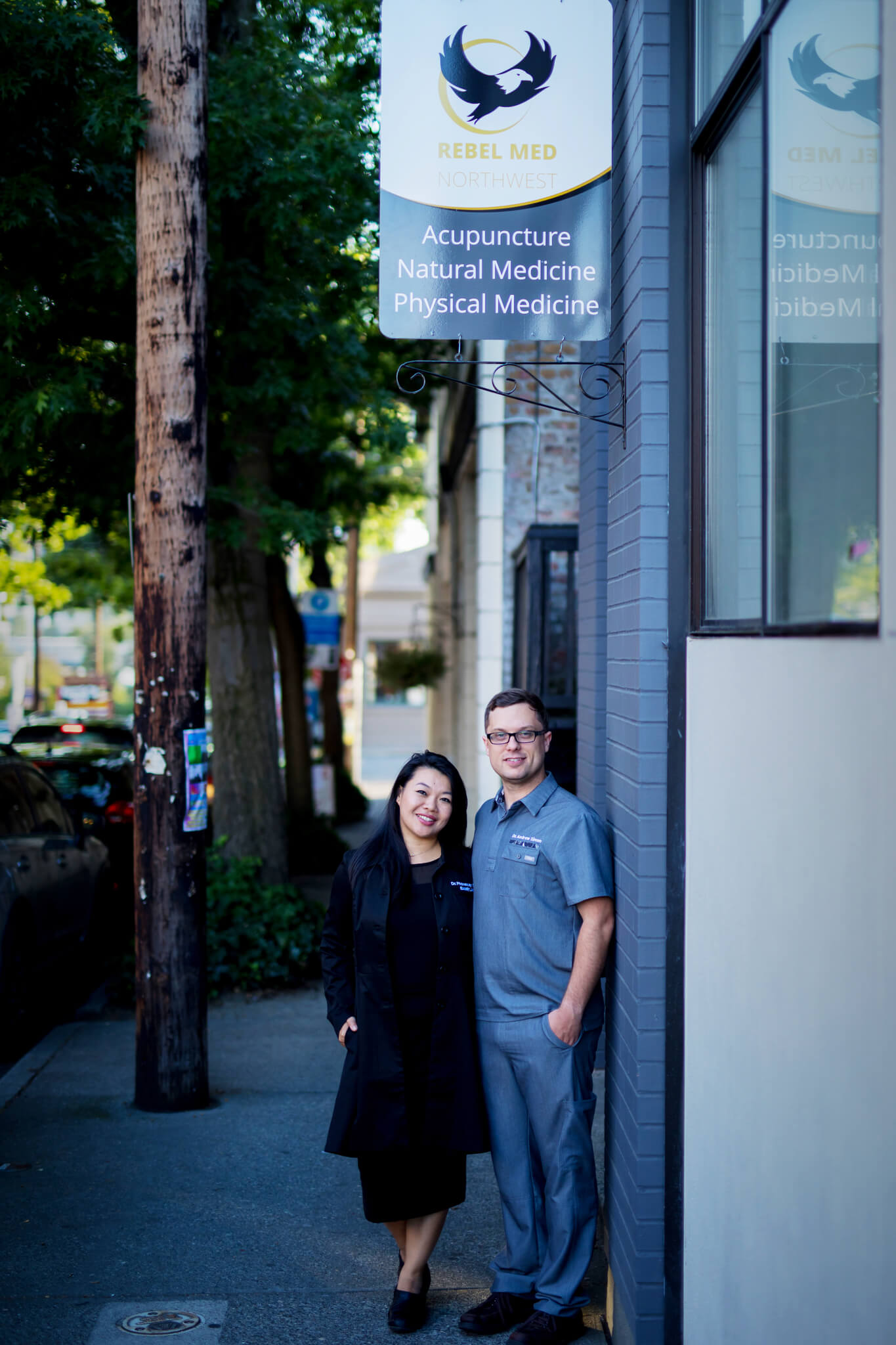 Here are Andrew and I in front of Rebel Med NW in Ballard. We feel blessed to be able to call Seattle our home and have the opportunity to raise our family and build our clinic here so that we can serve our community.
"Happiness is not so much in having as sharing. We make a living by what we get, but we make a life by what we give."
The root word for doctor is the latin word "docere" meaning to teach, instruct, or point out. True to the word, that is how myself, my husband, and the Rebel team that we work with all practice. We are teachers and advocates to our patients, to our communities, and to each other. Not just about physical health but about other aspects of well-being that include emotional, mental, psychological, social, environmental, and even spiritual lives. Health is a part of all these aspects of ourselves.
If you are interested in acupuncture services and want to schedule with me, go ahead and go to the scheduling page, but my hope is for you to look around this website a little bit more.
I have been practicing Chinese medicine for over six years now including returning to school and completing a doctoral degree in acupuncture and oriental medicine (DAOM). The more I practice this medicine, the more I fall in love with it, and it is through this website that I devote my time and energy to get the world to fall in love with this medicine too.
KEEPING AN ANCIENT WISDOM ALIVE
Through this process I've gained a great appreciation for what this medicine has to offer on both a practical and esoteric sense. My goal is to pour my knowledge and soul into this website and to fulfill my "docere" duties by teaching to the greater community what acupuncture and Chinese medicine really means from my perspective. I also want to preserve the ancient knowledge that was accumulated in a way that honors the ideas and viewpoints of that time but are still applicable to today, and that does not filter out its esoteric potential.
In fact, a medicine that provides a spiritual framework is more in need by modern reality than ever because we are beginning to lose touch with some important elements that enrich us as humans. This endeavor is limited by the amount of knowledge that has been translated over to English from Chinese, but any project must begin somewhere, and hopefully continue growing as its popularity and relevance in the greater society grows.
You will also find that I practice divination, so my website will also have information on astrology and tarot. Please don't mistake "divination" to mean fortune telling; I cannot tell the future. Divination is the practice of accessing our deepest selves; the spiritual body that makes us unique yet connects us to everything in the cosmos.
I began using these tools for my own self reflection and evolution. I now use divinatory tools as self-reflection tools so that I can have a better understanding of my patient, and then help my patients have a better understanding into themselves. Through this process, we can facilitate the most motivation and the most change. It is similar to using psychological tools to understand a person's underlying motivations in order to help them make behavioral changes. I personally find this method to be an efficient initiator for that process.
ORIGINAL QI BLOG
Cupping has been used for centuries. Archeological findings found cultures that utilized animal horns and bamboo for cupping therapy. Cupping…
information becomes knowledge becomes awareness becomes choice becomes power
On the chilly morning of June 6 atop Cherry Hill, the medical neighborhood of Seattle, hundreds of medical providers and workers gathered together at a street intersection in the middle of a global pandemic. White Coats for Black Lives is about upholding equality in the medical system.
This blog was originally posted in the Acupuncture Relief Project blog and was also titled "Vegetables for Medicine" back in…